83MEC has more than 40 years of development experience in mechanical manufacturing, in which mechanical fabrication is one of the main fields attached to 83MEC during its formation and development. Mechanical machining at 83MEC includes services such as design, processing, assembly and quality control of products using modern technological manufacturing methods to produce high-quality products and meet the needs of domestic and foreign customers. Responding to market fluctuations and increasingly diverse needs, what conditions have 83MEC met to maintain and confidently assert its current position and will develop further in the future? The following article will help you better understand 83MEC and why choosing mechanical processing at 83MEC is suitable when there is a need for mechanical machining.
1. What is the mechanical machining process?
Mechanical processing is manufacturing mechanical parts from materials such as metal, plastic, etc., through processing methods such as cutting, grinding, milling, turning, casting, stamping, welding,.etc, to create finished products with high precision and aesthetics. Modern mechanical techniques, including CNC and intelligent manufacturing technologies, have helped to improve machining processes and increase product productivity and accuracy. Machining products can be used in many different industries, such as automotive, aviation, shipbuilding, electronics, medical, energy, etc. With the development of technology, mechanical processing has been applied to many advanced technologies to achieve higher production efficiency and product quality.
Why should you choose 83MEC as the leading unit in mechanical machining?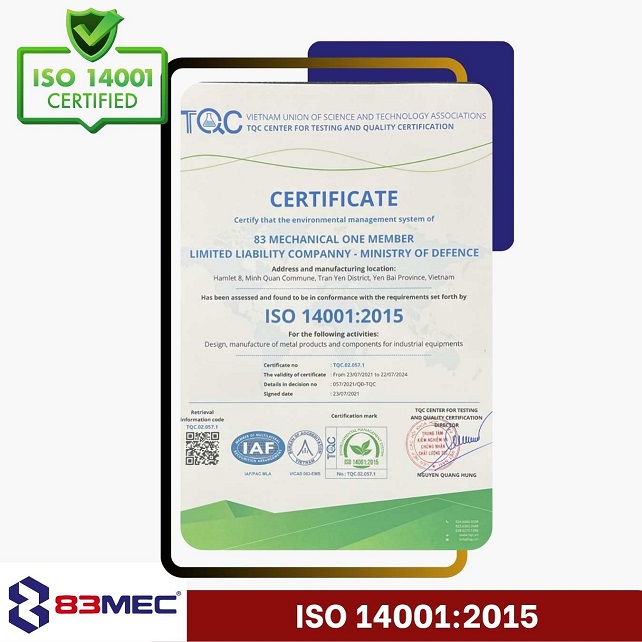 To achieve success and recognition in the mechanical machining industry, 83MEC has the following strengths:
– High-experience: 83MEC has more than 40 years of experience in mechanical processing and is highly appreciated by domestic and international customers for product quality, delivery time and after-sales service.
– Modern production technology: 83MEC has used specialized equipment and machines with exact features such as CNC, deep drawing stamping, fire casting, and surface treatment,… To satisfy flexible and efficient production needs to supply customers, 83MEC has equipped with modern processing equipment, optimizing productivity and quality in the machining process, such as a CNC lathe, CNC milling, universal milling machine, digital display universal lathe, MIG welding machine, TIG welding machine, multi-axis milling machine, Plasma cutting machine, pneumatic spot welding machine and other specialized machines. These modern machinery and equipment help 83MEC to process metal parts with high precision and large production capacity, save time and costs, meet customer needs and ensure quality products.
– Professional technical team: The technical team at 83MEC is highly qualified, highly trained in mechanical production, capable of solving complex problems in the production process and ready to advise the best solution for customers.
– Competitive price: Through the implementation of production process optimization, efficient use of resources and advanced technology 83MEC is committed to providing products of the highest quality at competitive and reasonable prices to customers. At the same time, we always listen to customers' opinions to improve and provide the best service.
– Reputation and quality: 83MEC always puts product quality and customer satisfaction first. Products manufactured by 83MEC have well-met customers' requirements and quality standards, as demonstrated through strong cooperative relationships with domestic and international partners.
– Meet international quality and safety standards: 83MEC has an international standard quality and environmental management system. With efforts, continuous improvement, and scientific management in production and business activities, 83MEC achieved ISO 9001 and ISO 14001 certifications to affirm its position, product quality and environmental responsibility in our production and business process. This is also a competitive advantage for 83MEC in the current mechanical market.
With outstanding competitive advantages such as experience, product quality, a team of highly skilled engineers and technicians, modern facilities and equipment, along with a commitment to quality and good service. With the best and most competitive prices, 83MEC is a reliable choice for partners in mechanical processing. For details, don't hesitate to contact 83MEC for the best support.