Precision machining became popular in the 18th century and was considered a prominent field during the Industrial Revolution in Europe. Until today, precision mechanical machining has a development that can be traced back several thousand years around the world. The 19th century marked a turning point for the development of the field of physics, which is the science of precision mechanical engineering.
Along with the advancement in technology and a force of highly qualified mechanical engineers, passionate pursuit of development in fields such as mechatronics and composites,… have helped the family. Precision mechanical engineering is increasingly essential and has become one of the key areas for industry development today.
83MEC is a leading company in the field of precision mechanical machining. The company is committed to providing high-quality solutions for customers in various industries. With a team of experienced engineers and skilled technicians, 83MEC has the capabilities to handle complex machining projects and provide custom solutions that meet the unique needs of each customer. The company's state-of-the-art equipment and advanced technology ensure high precision and accuracy in every project.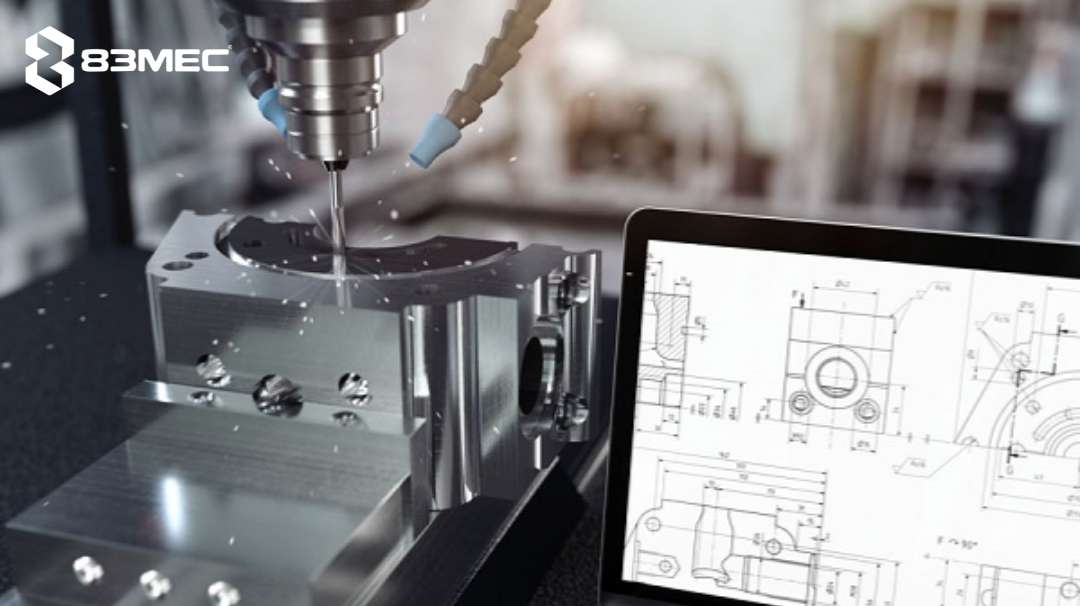 1. What is CNC Machining?
– Precision mechanical processing is a machining process that helps to create products with absolute precision through the operation of modern machinery and equipment systems such as CNC wire-cutting machines, CNC milling machines, CNC turning, etc., together with a program that is precisely programmed in every detail, has made CNC precision machining considered one of the top choices of manufacturers in mechanical engineering on demand.
– CNC (Computer Numerical Control), or computer numerical control, is programming through a computer to control equipment automatically. CNC is the preferred choice for producing complex mechanical products, and the program must be written in special notation according to the EIA-274-D standard. During machining, technicians will control the computer to make the process happen automatically. Currently, precision mechanical processing is the use of CNC machines, so it is also known as CNC machining or CNC machining.
2. What is the outstanding CNC machining process at 83MEC?
Step 1: Prepare the source of materials
CNC precision machining can be performed for various materials such as aluminium, steel, stainless steel, brass, titanium, and plastics. 83MEC always focuses on input quality for each material to ensure standard output quality.
Step 2: Programming
Before precision machining can begin, machines must be programmed by highly specialized engineers to make batch machining run smoothly without any errors.
Step 3: Machining
After correctly programming the machining program, the technical workers at 83MEC will process the raw materials according to the specifications for the finished product. Depending on the structure of each detail, many processes can be combined to perform flexibly.
Therefore, 83MEC has used a variety of modern CNC machines to meet flexible production needs such as:
CNC Milling Machine

CNC Lathe (with automatic bar feeder)

400 CNC Electric Pulse Machine

CNC Horizontal Drilling Machine

CNC Foam Cutting Machine
Step 4: Surface treatment
Surface finishing operations are indispensable in the CNC precision machining process. Surface finishing aims to enhance and smooth the surface of finished products with different materials. Often other finishing techniques are used, such as anodizing, bead blasting, electroplating, powder coating, etc. Discover More . Some of the equipment used at 83MEC for surface finishing include:
Chrome plated

Matte, glossy Nickel plated

Oxidation plating

1000A Plated Rectifier Cabinet

Powder coating system (paint sprayer, paint booth, exhaust fan, air dryer, drying cabinet)

Paint Screening Machine
3. Why does 83MEC consider mechanical processing one of the key areas in business development?
Wide application: Mechanical processing is applied in many industries, such as automobile, aviation, oil and gas, electronics, machinery manufacturing, and many other industries. Therefore, mechanical products are always widely applied and have a high demand for use.

High quality: Mechanical processing is performed by specialized machinery and equipment, helping to ensure the high quality of products and meet strict technical requirements.

Flexibility: Mechanical processing can be performed on many different types of materials such as metal, plastic, wood, composite, etc., helping the product to be flexibly customized according to customer requirements.

Cost savings: Mechanical machining is often performed on automatic machines, which saves time and labour costs.
Because of these advantages, mechanical processing is one of the key areas in business development, especially in industrial machinery and equipment manufacturing. Besides, mechanical processing is vital in automobile manufacturing, aviation, electronics and many other fields. With more than four decades of operation and expertise in mechanical processing, 83MEC has been and will meet customers' high-quality and technical requirements.
Above is valuable information about precision mechanical processing that 83MEC wants to share. If your business is looking for a reputable unit in CNC machining, do not hesitate to contact us at info@83mec.com for quick support at competitive costs. We accept processing from simple to complex details, ensuring product quality at the best price.
contact us now