Vietnam is one of the rapidly developing economies in the Southeast Asian region. In this context, the mechanical manufacturing sector is crucial to the country's development. With the government's goal of integration and proper orientation, businesses in the mechanical manufacturing sector in Vietnam have made efforts to meet the demands of both domestic and international markets. Against this backdrop, through continuous efforts and long-term development strategies, 83MEC has gradually asserted its position as a good enterprise operating in mechanical manufacturing. With over 40 years of experience in the industry, 83MEC is one of the leading manufacturers in Vietnam, supplying high-quality products to domestic and international markets. This demonstrates the firm position of 83MEC in mechanical manufacturing and its positive contribution to the country's economic development.
From the early days of its establishment, the leadership of 83MEC has defined long-term development as the core focus. Placing the company's reputation at the forefront, they ensure that the company's interests go hand in hand with the customers' interests. Every customer who comes to 83MEC is considered a friend, a companion, understanding each other even in the most minor details and cooperating for mutual development.
Currently, 83MEC is manufacturing and serving the domestic market with fire protection products under the brand of the Ministry of National Defense, and we are also diversifying our product range in the fire protection industry to meet customer needs best. Through the value we bring to our customers, we have gradually established our brand position in the domestic market and gained nationwide distributors' and agents' trust and long-term cooperation in the fire protection sector. In addition, we also provide other mechanical products such as electrical equipment, drum covers, brass valves, agricultural machinery parts, and other mechanical components. All products from 83MEC are manufactured and processed using standardized materials that meet quality standards and technical requirements, ensuring high performance and durability.
In addition, the goal of integration, expanding exports, and contributing to the affirmation of the Vietnamese brand on the international stage is also an important objective in the development strategy of 83MEC. Our products are manufactured to ensure quality standards and are highly regarded by customers in progress, meeting technical requirements and aesthetic standards for export conditions in consumer markets. In particular, 83MEC has focused on investing in modern technology and equipment, optimizing production processes, increasing productivity, reducing costs, and enhancing product competitiveness. Thanks to the product quality and the dedicated efforts of our staff, 83MEC is gradually asserting its position internationally by exporting mechanical products to high-standard markets such as Europe, America, UAE, Singapore, Germany, Italy, and more.
The distinct product categories for 83MEC's export activities include ammo metal boxes, smokeless grills, jack stands, TV stands, heating toolkits, and other mechanical products. Meeting ISO 9001 and ISO 14001 standards and implementing the Kaizen 5S program are also significant advantages that facilitate the integration process for 83MEC. Many foreign partners require suppliers to meet these standards to ensure the sustainability and quality of products. Therefore, 83MEC's compliance with these standards has helped attract customers and important partners worldwide, laying the foundation for broader integration opportunities in the future.
These factors are helping 83MEC solidify its position in the domestic market and expand further through integration in mechanical manufacturing. While facing various challenges, with determination and development orientation, we are confident that the products provided by 83MEC have, are, and will continue to meet customer needs effectively.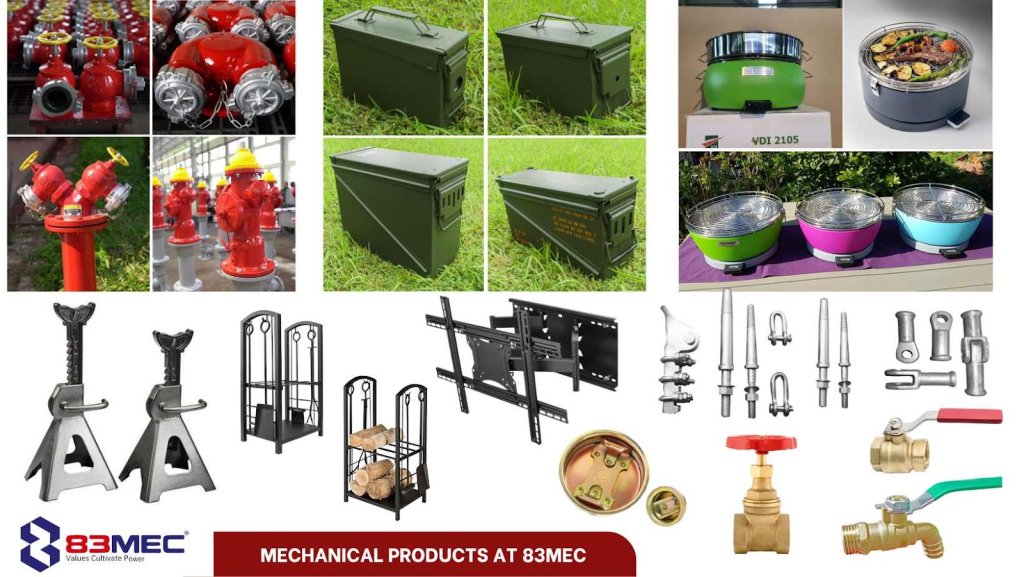 83MEC would like to express sincere gratitude to our customers and businesses who have trusted and chosen 83MEC as their companion on their business journey. We will make every effort and determination to build a strong and reputable brand, delivering our customers high-quality products at competitive prices. For more detailed information, don't hesitate to contact us at the following contact details. 83MEC is honoured to serve you and address any inquiries you may have.